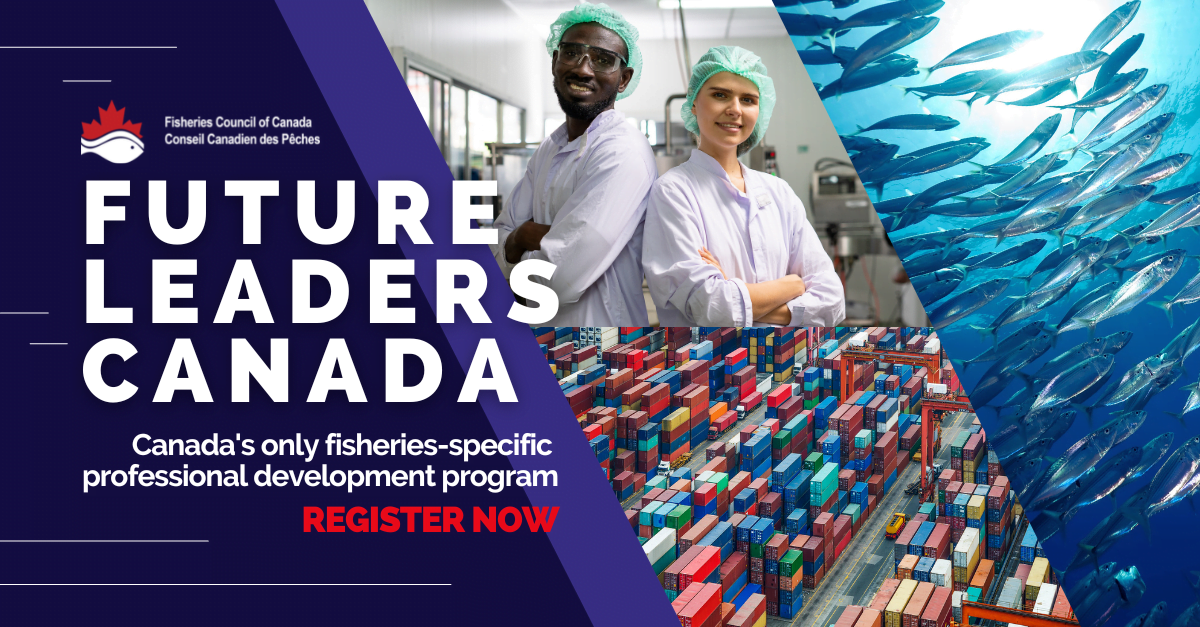 Future Leaders Canada 2023 Offers Fisheries-Specific Professional Development
FOR IMMEDIATE RELEASE
December 7, 2022
OTTAWA, ON: Canada's only fisheries-specific professional development program is back with a new curriculum for 2023. Participants in Future Leaders Canada 2023 will gain valuable insight into the fisheries supply chain, from production to regulation, in three three-day sessions to Ottawa, Chicago and St. John's. Registration is open now until January 27, 2023.
Working in partnership with the National Fisheries Institute, the Fisheries Council of Canada has been hosting Future Leaders Canada since 2019. The professional development program accepts participants working in or alongside the fish and seafood industry (wild-capture and aquaculture) who are interested in gaining the skills and insider knowledge needed to become successful champions of the sector.
"The FCC Future Leaders program has been a great experience – it has given me the ability to expand to parts of the operation that I might never have had the opportunity to," said 2022 participant Nelson Stone from Ocean Choice International. "It's been amazing to see so many successful local businesses! I have built some solid connections that have already improved our operations."
Participants will have the opportunity to travel to three North American cities to attend hands-on sessions and network with industry leaders and peers. Sessions include things like facility tours, port tours, vessel tours, advocacy meetings with Parliamentarians, logistics presentations and innovation exploration.
"These sessions are designed to provide context to the everyday roles of fish and seafood industry professionals to create a well-rounded understanding of the various facets of the supply chain," said Paul Lansbergen, President, Fisheries Council of Canada. "The goal: create a generation of Future Leaders that will continue to elevate our industry."
Register before January 27, 2023 to secure a spot in the 2023 program. The first session is an optional networking breakfast at Seafood Expo North America in March, followed by the first official session in Ottawa on April 30.
-30-
The Fisheries Council of Canada (FCC) is the voice of Canada's wild capture fish and seafood industry, promoting a healthy resource and prosperous industry playing a vital role in the Canadian economy. Our members include small, medium and larger-sized companies along with Indigenous enterprises that harvest and process fish from Canada's three oceans.
For more information or to set up an interview please contact:
Kelly McCarthy
Manager, Communications
kmccarthy@fisheriescouncil.ca
613-883-8200