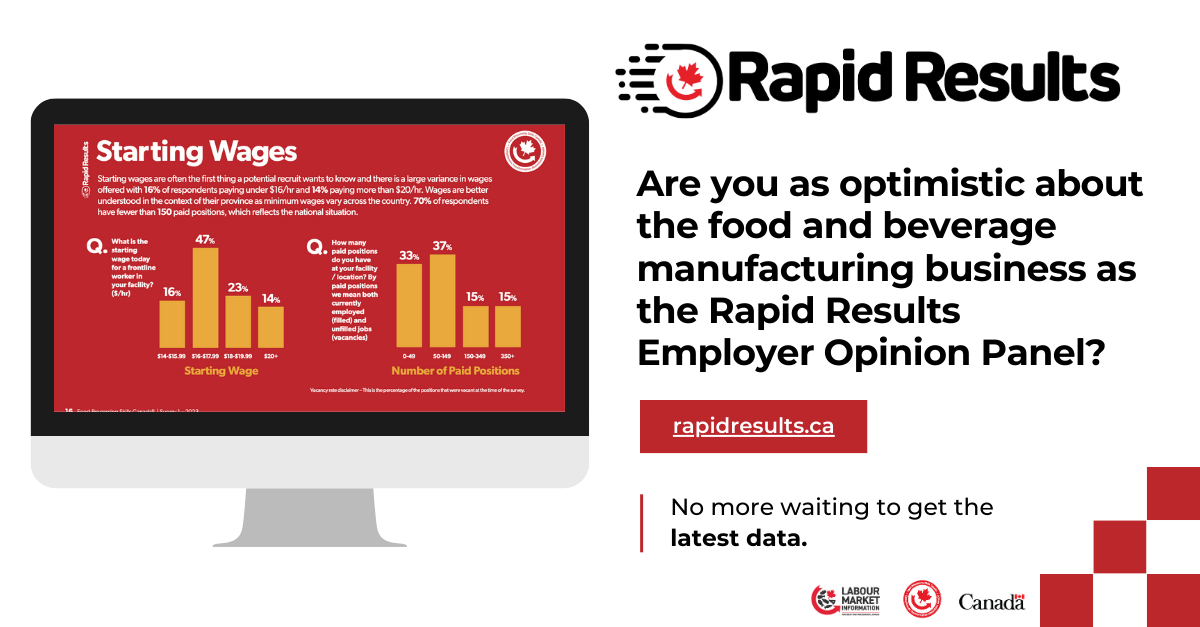 Rapid Results: Food & Beverage Manufacturing Industry & Labour Data
The following is a contribution from Food Processing Skills Canada:
Introducing Rapid Results by Food Processing Skills Canada— an initiative designed to provide the most current labor market insights for the Canadian food and beverage manufacturing industry in partnership with the Fisheries Council of Canada. Rapid Results collects and analyzes input provided by an Employer Opinion Panel representing the diversity of the industry and capturing variations in facility size and location across Canada.
These insights provide a temperature check on how the industry is faring with workforce challenges and more generally the outlook and level of optimism businesses have about growth and future success. The first Rapid Results report was released in September 2023.
Key Findings
76% of panellists said recruitment challenges has stayed the same or worsened with 84% reporting vacancies and 86% hiring new staff during the reporting period.
The biggest challenges in hiring for non-production roles, is the lack of applicants with relevant experience and training. While for production roles it was a lack of applicants who are interested in the position as well as a lack of relevant experience.
Most panellists (63%) said they provided less than 10 hours of onboarding and the majority (84%) said it is done in-house.
The average starting wage for a frontline worker was $2.63/hr above their province's minimum wage. 47% of panellists indicated a starting wage for a frontline worker between $16 and $17.99 with 37% paying more than $18.
Panellists viewed competition from manufacturers outside food and beverage manufacturing as the main driver of turnover, with 53% of panellists saying it had contributed to their departures, while 33% indicated competition from other food and beverage manufacturers was a driver of turnover.
Panellists indicated that investing in innovation — automation, digitization, and wireless interconnectivity — is important with 40% of panellists investing in some area of innovation in the 2 months preceding the survey and over 50% intending to do so in the next 6 months.
81% of panellists are optimistic about the future of their business and 75% about the future of the industry in Canada.
The information in the Rapid Results report provides an important benchmark for businesses on their own performance when compared to others in the industry. Follow this link to download Rapid Results — Survey 1 Executive Report.
Food Processing Skills Canada also welcomes additional participation on the Rapid Results Employer Opinion Panel. Employers, HR professionals, and senior level employees with a Canadian food and beverage manufacturer are encouraged to join the panel and receive a variety of benefits. Learn more and register here.