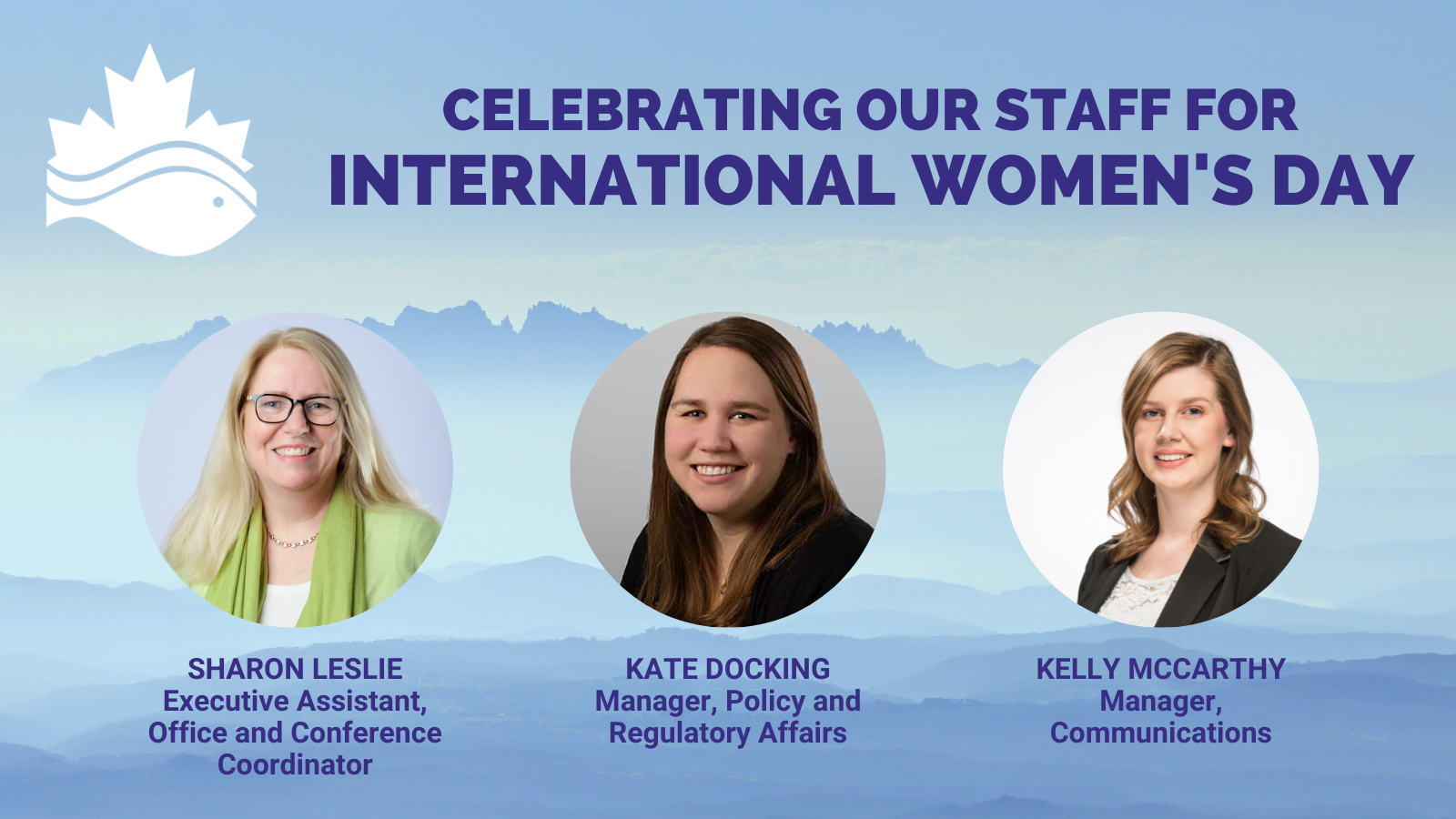 Celebrating Our Staff for International Women's Day
The Fisheries Council of Canada has a small but mighty team! Led by President Paul Lansbergen, the association is supported by a staff of three specialized employees working to improve the business environment for the Canadian fisheries industry – and they're all women!
This International Women's Day, we wanted to shine a spotlight on the women behind the successes of FCC and celebrate the rise of female leadership in this traditionally male-dominated industry.
---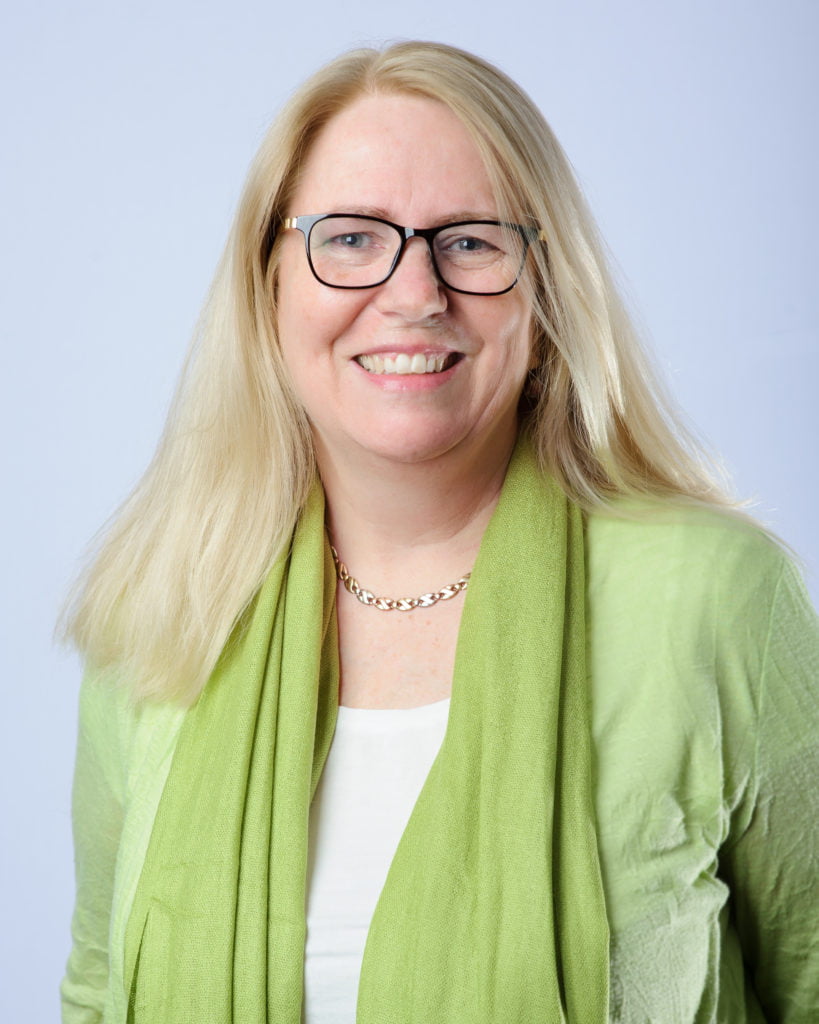 SHARON LESLIE – EXECUTIVE ASSISTANT, OFFICE AND CONFERENCE COORDINATOR
Sharon Leslie is Executive Assistant, Office and Conference Coordinator for the Fisheries Council of Canada. She has worked as a consultant with FCC for six years and has other experience with not-for-profit associations. Her duties include arranging meetings for the President and assisting with scheduling of activities for all staff. She helps to promote the Future Leaders program to all members and "friends" of the industry, and assists the National Fisheries Institute with the planning and logistics for each year. She helps plan the logistics of FCC Board of Directors meetings and prepares a briefing book. She is also instrumental in the planning of the Annual Conference, which is a key pillar in bringing the industry together. Sharon's strengths as a people-person and talents in connecting like-minded individuals add significant value to the association.
Sharon brings to the organization her bilingualism and knowledge from a 20-year career in the banking industry working in various locations across Quebec. Notably, she spent five years living on a reserve in James Bay with the Cree First Nation of Waskaganish working as their bank manager. Her values and experience in Northern Quebec provide an insight to Indigenous views. She has a strong sense for volunteerism and being involved in community.
She enjoys winter sports, having taught people with disabilities downhill skiing for 20 years, enjoys cross-country skiing, and plays golf avidly in the summers. She and her husband have a 16-year-old son, and a cat named Bunny.
Sharon believes that it is important to have female leadership in the Canadian fisheries industry. Women are inherently caregivers and want the best for their families, as do men. Women will bring unique ideas and perspectives to businesses, often looking at two sides of problems and bringing innovative ideas. Eating sustainable fish is good for the health of our families and for our future.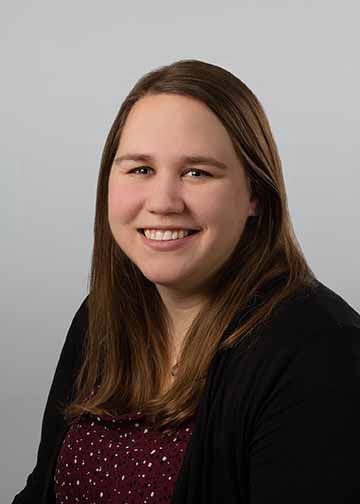 KATE DOCKING – MANAGER, POLICY AND REGULATORY AFFAIRS
Kate Docking is Manager, Policy and Regulatory Affairs for the Fisheries Council of Canada. Her primary role is to is to analyze and assist FCC's president with policy developments related to fisheries management, market access, marine conservation, and various regulations. She has been with FCC since January 2020 while prior to that, she was working for the Federal Government at Environment and Climate Change Canada and Indigenous Services Canada. She also has obtained a Master's of Biology from the University of Ottawa where her thesis focused on the predictive power of commercial fisheries stock assessments. Her experience within the federal government has been essential as she navigates the various policy and regulations and her academic background in biology has provided a unique perspective to complement others on staff at FCC.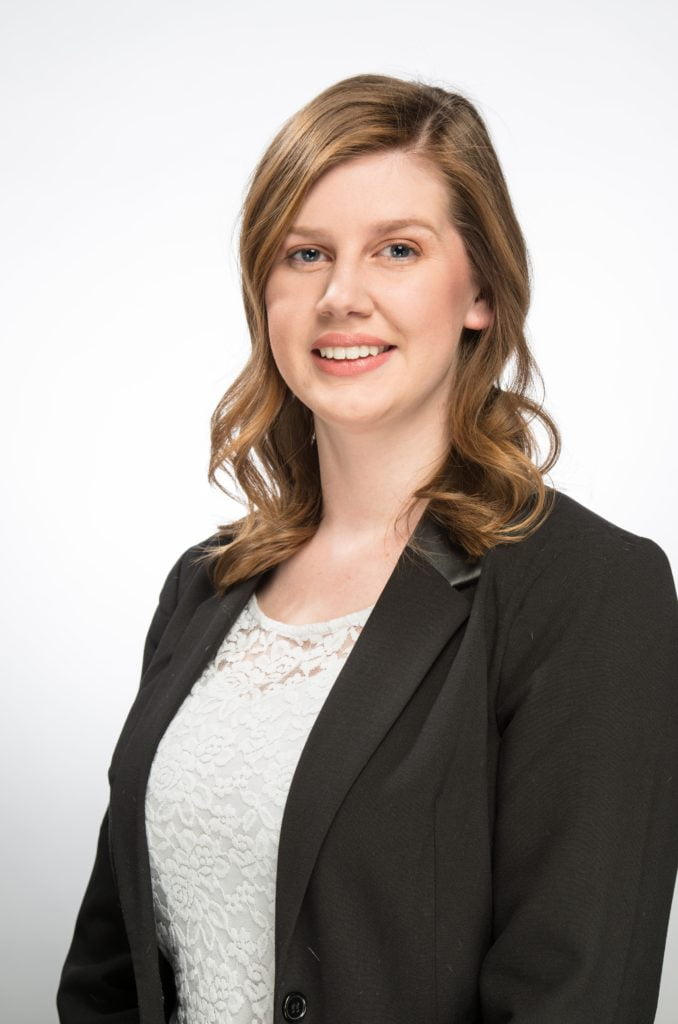 KELLY MCCARTHY – MANAGER, COMMUNICATIONS
Kelly McCarthy is Manager, Communications for the Fisheries Council of Canada, tasked with improving public trust for fisheries and promoting a favourable industry reputation. She came to FCC in 2020 with a wealth of experience in the industry association space and a background in journalism. Her expertise in storytelling has helped to craft a successful Telling Our Sector's Story campaign that improved positive sentiment for Canadian fisheries by 54% in its first three years.
Kelly's role is fundamental in supporting FCC members as we all strive to turn Canada into a sustainable fishing powerhouse. It is important for the industry to have a voice at a national level, showcasing Canadian seafood and the hard work being done to ensure our coastal communities are supported, healthy food is produced and fish stocks are maintained for generations to come.
Kelly is part of the small but mighty team at FCC, led by President Paul Lansbergen and supported by a capable all-female staff. The representation of women on the FCC team helps to balance what has traditionally been a male-dominated industry and brings a diverse perspective to fisheries issues. The fisheries industry has been increasingly embracing female leadership and FCC is proud to have female professionals on its staff and Board of Directors.